Simba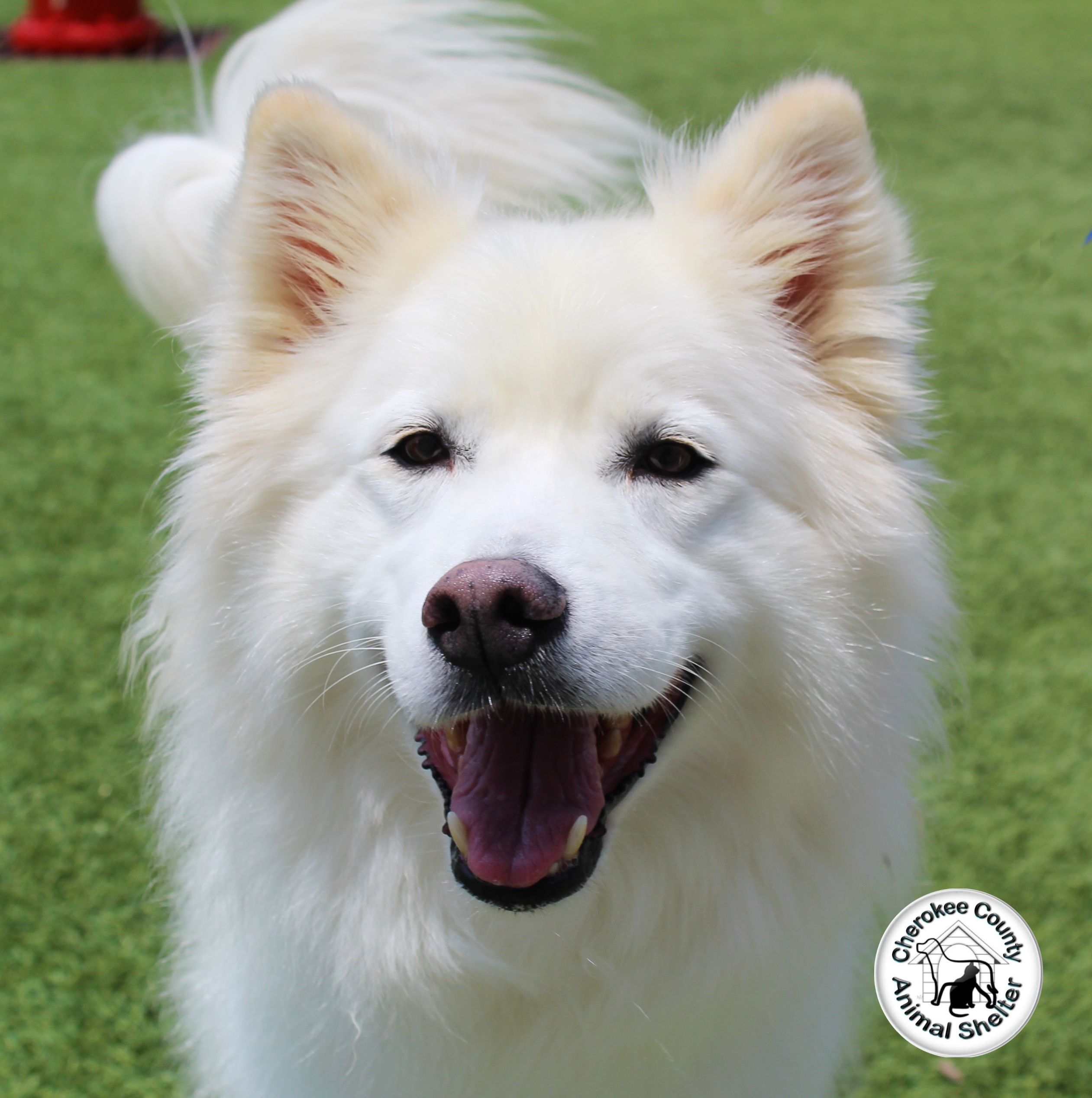 Simba is a 7 year old male Samoyed who came to us in August 2021 from Canton, Georgia. Like many of the dogs that come into our care, we don't know anything about his prior owner or what his life was like. He was found on the street and placed in Cherokee County Animal Shelter. Sadly, his owner never responded to repeated calls to retrieve him. Luckily, a volunteer committed to finding Simba a forever home took photos of Simba and called several rescues finally reaching St. Louis Samoyed Rescue. Our rescue immediately said yes to taking him in and transportation was arranged from Canton, Ga to Nashville, TN where the McNamee family picked him up and brought him to their home in St. Louis.
The McNamee family had recently lost their 14 year old Scout who was also a St. Louis Samoyed Rescue alumni, rescued in 2013. "It was perfect timing when we learned about Simba", said Vicki McNamee, secretary for the rescue. "It was a week before school started so we didn't hesitate to say yes to fostering Simba." He acclimated to the family and their routines very quickly. He's sweet, talkative and a true Samoyed male. Every morning he goes into wake his human brother for school, jumps on the bed and gives him a big kiss. About three weeks into fostering, he was a foster fail, no one could imagine having to give him up. Simba was officially adopted in September 2021. From Vicki, "I'm so grateful to have Simba in our family. Thanks to the woman who contacted our rescue, the shelter and wonderful transport volunteers for getting Simba to us! He is a wonderful dog with a lot of life to live and love to give!"
Simba enjoys sleeping in on the weekends, cookie treats from Treats Unleashed and Friday family movie night. We are looking forward to making many new memories with starting with his first Easter egg hunt and a trip to South Haven Michigan. We hope he loves the beach!
Scotty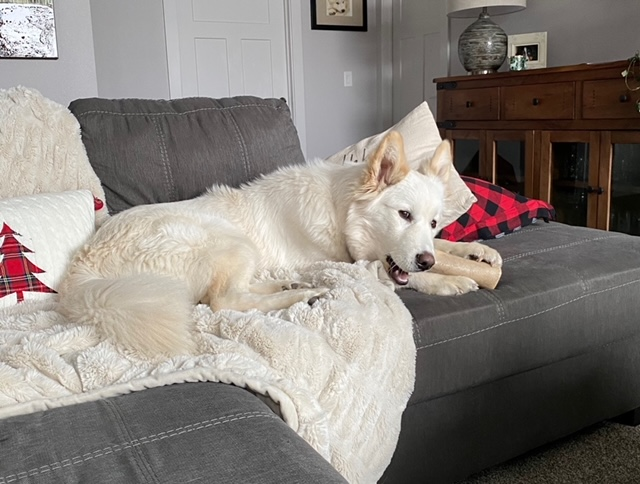 Scotty was pulled from a local animal shelter in Missouri, where he was taken in as a stray. Scotty was approximately 8 months old when SLSR took him in. He was a wild child! No training and most likely pulled from his litter too young left Scotty with a lack of manners! Scotty has improved by leaps and bounds with his foster family, including Samoyed and Berner foster sisters. Scotty's foster family is continuing to work on his training and hoping to get him started in agility soon!
WIllow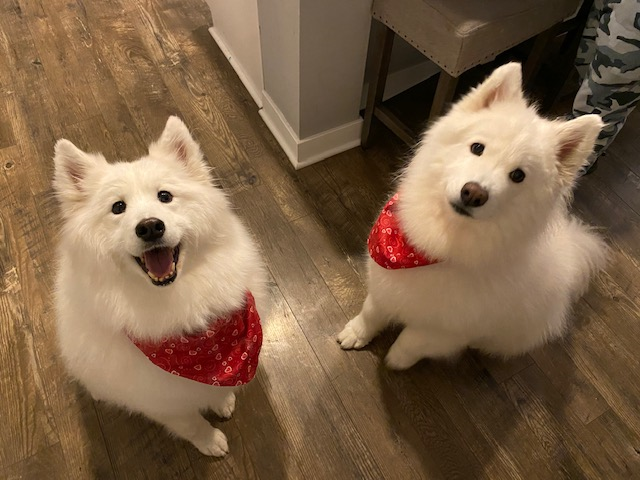 Willow came to SLSR with digestive problems, anxiety issues, and in desperate need of dental surgery. Willow had extensive periodontal disease and infections, which caused her to lose over 20 teeth. Once Willow recovered from her dental surgeries, she was like a new dog! Willow now lives in her forever home with her family and Samoyed sister, Boo!
Tasha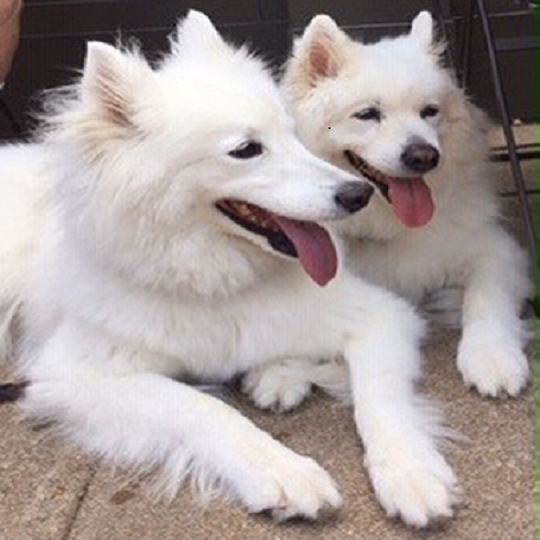 Here is a pic of Maddie Sue, now Tasha with SLSR Alum Isis. Maddie Sue and her sister were released to a rescue. Maddie Sue's rescue was having a tough time adopting her out because she had some anxiety issues. SLSR took in Maddie Sue and found her forever home with a family who had adopted another Samoyed, Isis, from SLSR. Maddie Sue, now Tasha, is doing great in her new home with sister Isis!
Logan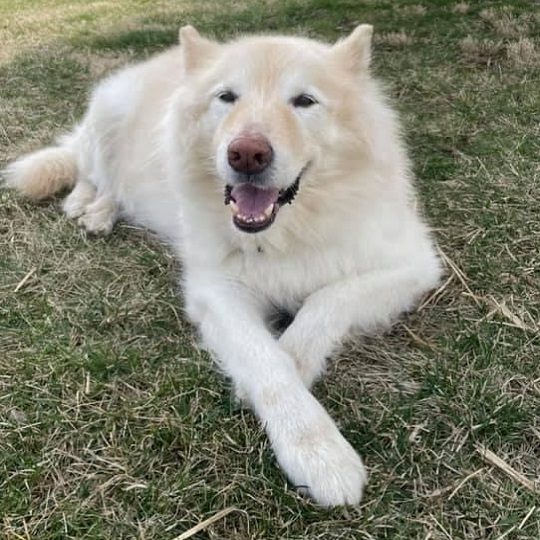 Senior boy Logan was surrendered to the SLSR in august when his owner could no longer care for him due to memory issues. He was diagnosed with heartworms shortly after but has successfully completed his heart worm treatment! Unfortunately, Logan's vet found a mass and surgery is not recommended due to his age, and he will remain a permanent foster in the SLSR. He loves his foster family and Samoyed sister, Boo, and will continue to be spoiled with love!
Mimi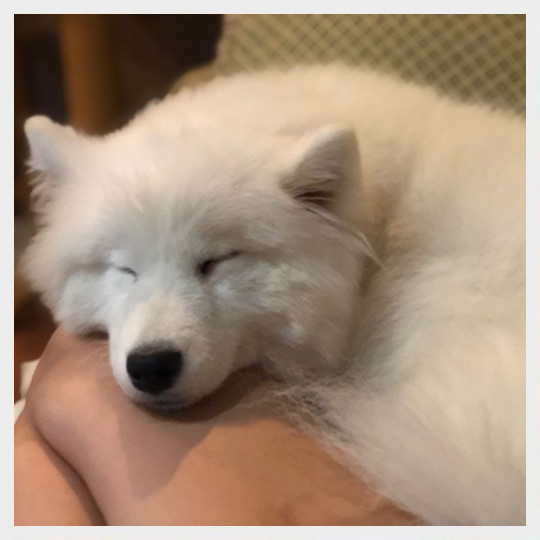 Mimi came into SLSR from a central Illinois shelter in the Summer of 2018. She got to ride with several Samoyed rescuers on a transport over to SLSR. We were told by the shelter that her vision was not great, and she may have some eye issues. We got her right into the vet and some eye specialists. After lots of phone calls, board discussions, and vet opinions, we found out that Mimi is blind in one eye and has a very, very limited amount of vision in her other eye, but she may be able to see shapes of some sort. The vet staff fell in love with Mimi (not surprisingly!) and one of the vets asked to foster her while she was in their care. The next thing we knew, one of the vet techs asked to adopt Mimi. What a perfect pair! She takes Mimi to work with her every day, so she is able to give Mimi her eye medication, which is needed multiple times a day, and if Mimi has any additional eye issues, she is in good hands! Mimi lives with her black lab brother and her hooman in St. Louis.
Dominic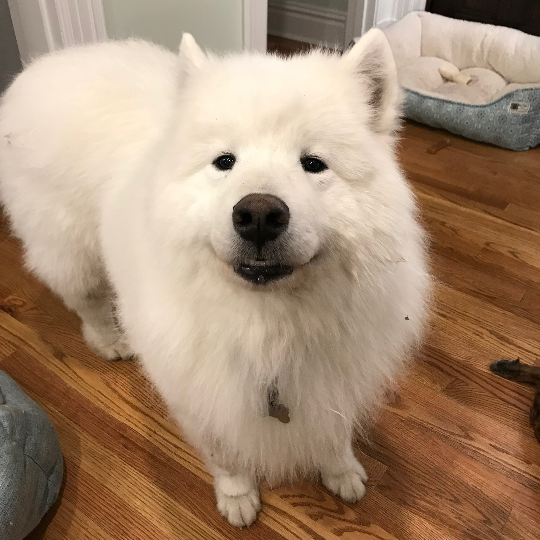 Dominic came to Saint Louis Samoyed Rescue from a hoarding situation with over 170 Samoyeds in Iowa. For the first few years of his life he was kept in a barn, fighting for food and had almost no human interaction. The local Humane Society was working with the hoarder, taking 4 or 5 dogs at a time that the hoarder was willing to relinquish. A SLSR member agreed to foster Dominic and help him get used to life in a home. He was so dirty and matted that they had to cut mats off his neck just to get a collar on him for the ride home. Dominic was extremely unsocialized but luckily, he followed his foster sister Cassie everywhere. She taught him how to potty outside, ride in a car, and go to grooming and most of all, to trust people. Dominic is now a happy and healthy dog! He goes to doggy day care, is starting to open up to other people and has learned some commands. As often happens, he was a foster failure and is now a permanent member of his foster family with sisters Cassie (Samoyed) and Marcie (Chowmix). He is a beautiful boy and will continue to know love and understanding for the rest of his days.
Ellie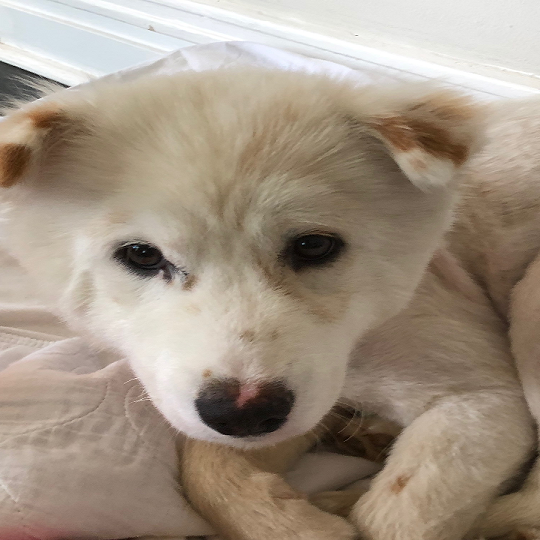 Ellie was a stray who landed at an Animal Control facility in Arkansas at just a year old. St. Louis Samoyed Rescue facilitated a transport and took in this sweet girl. She needed time to decompress, get over her bad haircut, and learn to live inside. Like many others, Ellie became a foster failure, and now lives with her mom and two Sammie brothers, Jeremy and Frankie!
Hermie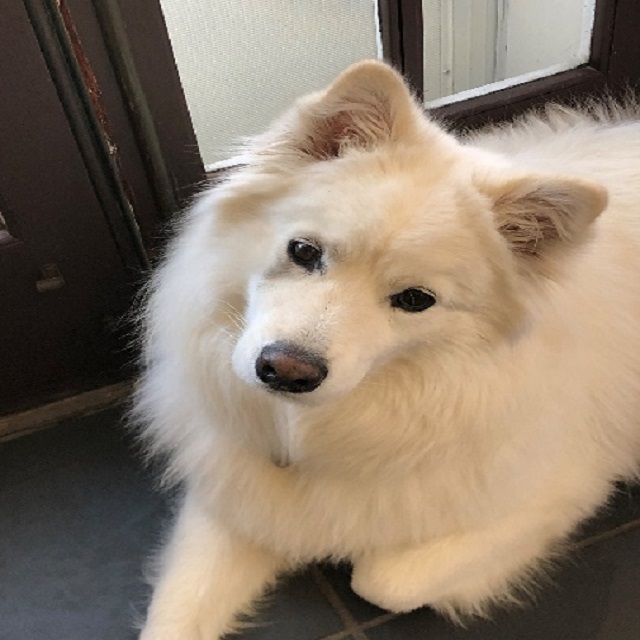 Hermie has been looking for his forever home for quite some time. A 4-year-old active Samoyed, we know he had at least 3 homes before he came to us. Hermie loved to play with other dogs and was wonderful in a crate but needed manners and leash training. He was exceptionally friendly, sweet, and smart! We knew we needed an experienced dog owner that could be the "Alpha dog" that Hermie needed. Along came Tom from Minnesota who had lost his wife and his Samoyed in the last year. He had Samoyeds for over thirty years and wanted a dog to take everywhere with him and play with his grown children's Huskies. Hermie and Tom hit it off immediately. Hermie is loving life in Minnesota where even in the Winter, his Dad leaves the window open for Hermie in his bedroom, Samoyeds love to sleep in the cold!!
Sugar Bear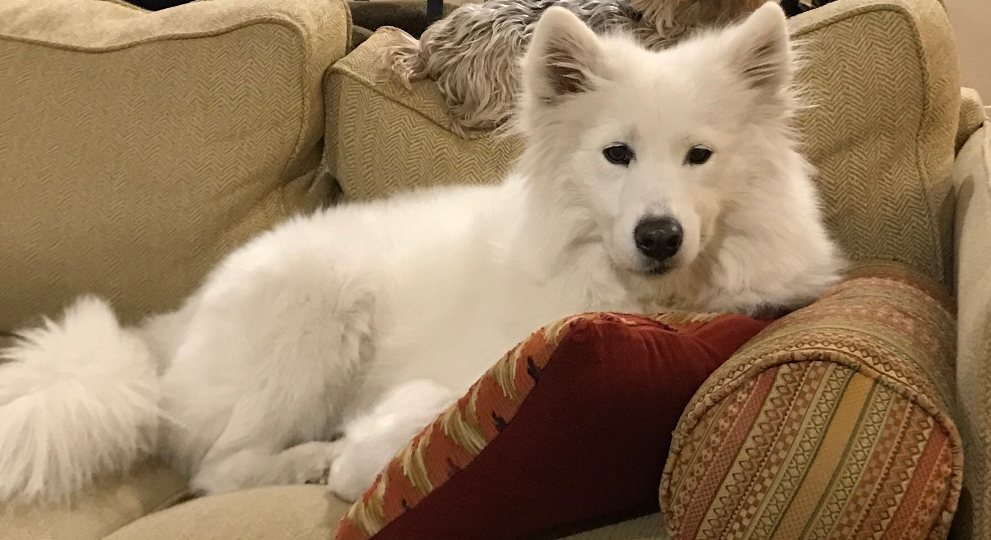 Sugar Bear was rescued after being used as a breeding dog. She had been kept outside in a kennel, unsocialized and unaware of what life in a home could be like. Her adopter spent lots of time with her, teaching her love, how to live in a home and to feel comfortable around people. Sugar Bear quickly became attached to her Mom, learning the joys of sleeping on the bed and laying on the couch. Sadly, her Mom was diagnosed with a terminal illness and Sugar Bear needed to find a new home. Sugar Bear came to St. Louis Samoyed Rescue, and we found a great new family and now Sugar Bear has a sister, American Eskimo, Ruby! She is loved by her new family and they tell us they cannot imagine life before Sugar Bear! She and Ruby have even taken over their Dad's favorite chair! We were so glad to help Sugar Bear find her forever family.
Izzy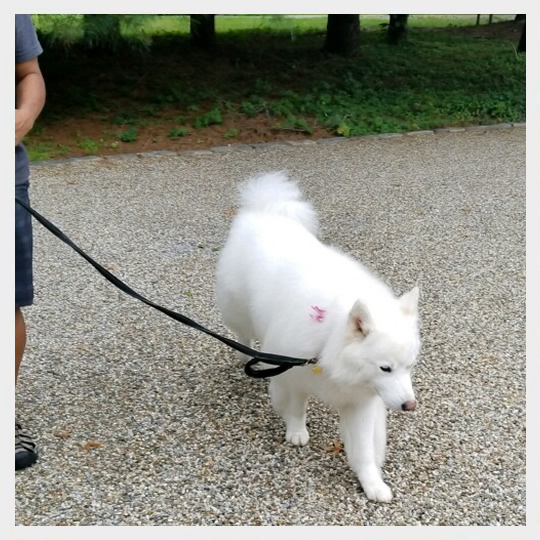 In the Summer of 2018, Izzy's owner reached out to SLSR to help him rehome his Samoyed mix, Izzy. Izzy is a big girl, but very, very sweet. Izzy appeared to be a Samoyed and husky mix. SLSR, along with Playing Again Sams in Wisconsin and Denver Samoyed Rescue, were able to help Izzy's owner search for a new forever home for Izzy. A couple from a few states away, who were experienced Samoyed and Samoyed mix owners, fell in love with Izzy. They passed the adoption vetting process with flying colors and drove to Illinois to adopt Izzy. Izzy is now enjoying being the queen of her castle in her new house and going for walks in the local park!